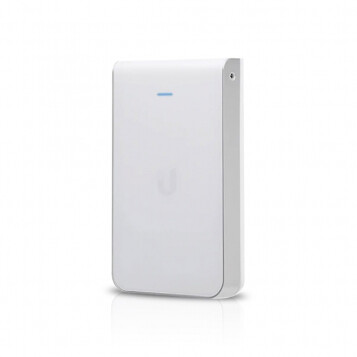 UniFi In-Wall HD
UAP-IW-HD
Product Details
LATEST STOCK LEVEL:
20+ UNITS
UniFi In-Wall HD Access Point (price was £139)
(FOR LARGE ORDERS - PLEASE CONTACT FOR SPECIAL PRICING)
Indoor 2.4GHz 300Mbps & 5GHz 1733Mbps, 5xGLAN, 802.11a/b/g/n/ac/ac-wave2, Dual-Band 4x4 Multi-User MIMO
.
See more details on our UAP-IW-HD product web page
UniFi In-Wall HD Access Point
802.11ac 4x4 MIMO access point with 4-port Gigabit Ethernet switch for high-density environments. Fits into wall outlet. Note: Requires 802.3at PoE+ switch.
The UniFi IW HD AP has a refined industrial design and can be easily installed using the included mounting hardware. Easily accessible through any standard web browser and the UniFi app (iOS or AndroidTM), the UniFi Controller software is a powerful software engine ideal for high-density client deployments requiring low latency and high uptime performance.
Features
4x4 MU-MIMO on 5GHz (1733Mbps max PHY rate), 2x2 MIMO on 2.4GHz (300Mbps max PHY rate)
802.3af for base functionality. 802.3at required if using PoE passthrough
1x4 (1 in, 4 out) switched Gigabit Ethernet ports with configurable PoE passthrough (port 1 only)
Integrated Gigabit Switch
Four ports are available for bridging – one of which offers PoE passthrough when the AP is powered by an 802.3at PoE+ switch.
Note: Requires 802.3at PoE+ switch.
_______________
OPTIONAL EXTRA
BACK BOX / PLATE TO MOUNT UAP-IW-HD (£5 +vat) - see image
Save this product for later